Le Faux is the perfect romantic getaway for two, or for your honeymoon hideaway. Set amongst a wooded pine forest, in Fort Bragg, California, this unique cottage boasts six acres of oceanfront property overlooking the magnificent Pacific Ocean. This spot truly is one of Northern California's best-kept secrets.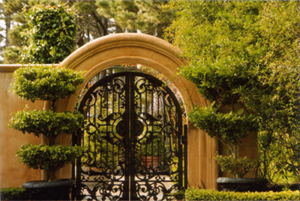 The charming cottage and main house have old-world faux finishes, and as you drive through the gated entrance, you feel as though you have stepped into another world where the stress of everyday living is left behind.
Every detail has been meticulously attended to in order to make your stay as memorable and comfortable as possible. Recently redecorated, the cottage is done in deep rich colors with European antiques or faithful reproductions.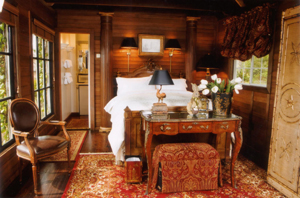 An attempt has been made to not overlook any amenity, from the rich deep color of the silk balloon shade, to the Louis Sixteenth bed, complete with down comforter, pillows and ironed sheets.
For those of you who do not wish to leave the property, Wi Fi has been added. Our other amenities include Directv, CD player, microwave, mini-fridge, coffee pot, teapot, dishes, glasses, flatware, complimentary coffee, tea, a full bottle of wine, and robes for those of you who enjoy comfort and lounging. Many of our guests wish to dine in rather than go out to dinner,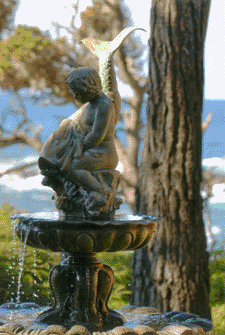 so they bring back locally-prepared foods to enjoy. The cottage deck is large and accommodating with exquisite views to be seen from the deck or fire pit, as you look through the pines down the rugged coastline and out to sea.
During the day guests delight in watching whales migrating, osprey fishing, or seagulls lazily circling above until the sun begins to set. Then they often find themselves enjoying a glass of wine before a blazing fire, waiting for the stars to consume the night sky. Please bring the one you love to this romantic vacation hideaway!